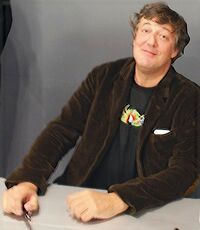 Stephen Fry is a British comedian, actor, writer and the host of QI for 186 episodes. He rose to fame in the 1980s as half of the double act Fry and Laurie, starring in A Bit of Fry and Laurie from 1987 to 1995.
Fry was present from every episode from the start of the A Series to the end of the M Series, from 2003 to 2016, as well as in the original pilot and several compilation episodes. His job as host involved introducing the panellists, giving them cues to press their buzzers, asking the questions written by the QI Elves, engaging in discussion, commenting on contestant's responses and providing the correct answers. In some series, such as the J Series, Fry performs various experiments (see Jolly Japes).
Fry first sees the questions and answers about an hour before the second technical rehearsal, where he is required to be present. He uses a series of cue cards during the show.
He was a contestant during part of "Birth", the B Series' Christmas special. He swapped places with Alan Davies and was asked a variety of questions, receiving several forfeits. He also awarded himself 52! (fifty-two factorial, or roughly 8 x 1067 in standard form) points for a card trick in "Jumble", which is technically the highest score ever given on the show.
On 14 October 2015, it was announced that at the end of the M Series, Fry would be stepping down as host of QI, to be replaced by Sandi Toksvig for the N Series. In an interview with the BBC, Fry said:
"For 13 years I had one of the best jobs on television. Behind the camera squadrons of quite extraordinarily brilliant researchers, programme makers and uniquely curious (in both senses of the word) people making that job so much easier. In front of the camera generations of lively minds and above all of course the wonder of nature that is Alan Davies."[1]
References
Edit
External links
Edit
Community content is available under
CC-BY-SA
unless otherwise noted.